Understanding why social media is an important part of inbound marketing is a bit like the philosophical question, "If a tree falls in a forest and no one is around to hear it, does it make a sound?"
You can have a great inbound marketing plan that includes engaging and high-quality content, but if you aren't using social media to share that great content and no one sees it, is your plan really that great?
Social media is an important tool in inbound marketing today because it shares content that generates interest in your product or service and provides you an opportunity to keep your brand in front of prospective customers. Just as important, it provides a direct path back to your website where you can collect potential customers' information for your sales team. 
With more than 4.26 billion people on social media, not including it as part of your marketing strategy could leave you missing out on valuable opportunities to bring customers into your sales funnel. 
But which social media channel is best for your inbound marketing strategy, and how can you use social media most effectively? Let's take a closer look at what inbound marketing can do for your business and how social media plays an important part.
What Is Inbound Marketing?
Inbound marketing is a proven marketing methodology for today's digital age. Since its inception in 2006, inbound marketing has become the most effective marketing strategy for doing business online. 
This type of marketing strategy allows the consumer to become acquainted with your company on their terms, not yours. That's important since 81% of retail shoppers conduct an online search before buying, according to GE Capital Retail Bank's Second Annual Shopper study.
Unlike outbound marketing (such as TV ads and cold calling), inbound marketing focuses on developing quality content that pulls people toward your company and product. The inbound methodology focuses on three key phases in the buyer's journey:
Attracting the right audience with the right content at the right time
Engaging by presenting insights and solutions that align with their pain points and goals so they are more likely to buy from you
Delighting current customers by delivering valuable content that increases loyalty and retention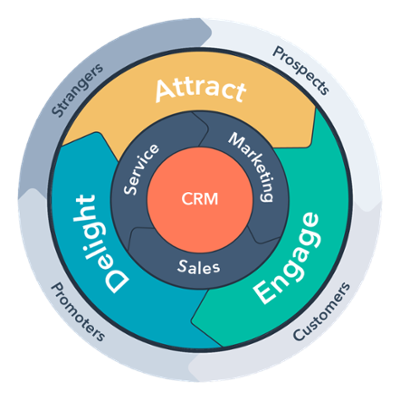 There are several tools used to accomplish this and help you grow your business, from blog articles to search engine optimization, social media, content offers, forms, calls-to-action, surveys and your website. 
Once you define your buyer persona or who your ideal customer is, you can tailor each of these tools to your target market and develop goals that are not only reachable but measurable. 
Why Is Social Media An Important Part Of Inbound Marketing?
Billions of people use social media globally, making it an integral part of content marketing. When implemented correctly and combined with a strategic content marketing plan, social media sites like Facebook, YouTube, Twitter, Instagram, Snapchat, LinkedIn and Pinterest can help you convert more leads into sales for your business. 
It's important to keep in mind that your social media presence is only as good as the content that you create. Your goal should be to educate, inform or entertain your prospects. Once you create valuable content, your goal should be to expand your reach by sharing it. Social media is an effective, modern way to share your content.
Facebook is particularly the primary content distribution channel for marketers today, according to the Hubspot State of Marketing Report. Regularly creating interesting and relevant blog posts about your industry, as well as downloadable eBooks, whitepapers and videos, is a great way to bind your social media strategy together. 
If you're not integrating social media as part of your inbound marketing strategy, you're missing out on a valuable tool that:
Expands your reach
Boosts brand awareness
Promotes your products and services
How Do I Maximize Social Media?
Social media is all about interacting and having conversations with potential customers, so share interesting content that is relevant to your mission. Here are a few tips on maximizing your content using social media.
Share the same content multiple times in an effective way. Analytics research will tell you the best times of the day to post on each of the social media platforms to draw certain demographics. For example, Twitter posts tend to perform well around 6 p.m., while Pinterest posts perform well as late as 2 a.m.
Take a closer look at social media ads. You may have heard of social media ads, prompting the question: Do I need social media ads? Social media ads provide you with a tool to target your audience even further and more precisely. When a prospective client clicks on the ad, a form will open that may include the person's contact information automatically populated. All the prospective client has to do is click on the ad and submit the already auto-filled form. This makes investing in social media advertising better worth your time and money.
Share an interesting eBook or blog post that results in instant website conversions. If the content is good, others may share it, further expanding your reach and potentially increasing your online presence.
Promote a primary offer on social media. An offer is a piece of content that is perceived by a potential client to be high in value. Providing this content offers advice or provides a path toward solving that problem. A primary offer should be one of your content pieces, often an eBook, report, white paper or other type of content.
However, make sure this one content offer has its own landing page on your website. You do not want to send potential customers on a wild goose chase or to your homepage because they could get lost in distractions that may be on your normal website pages. Landing pages also allow you to capture information about the prospect in exchange for the offer.
To get potential customers to the landing page, use calls-to-action, or CTAs, on your other website pages or in the content you create, such as blogs, emails and videos. When customers click on the CTAs, they are taken directly to the landing page.
Which Social Media Is Best?
That all depends on your target audience. With any social media strategy, it's a good idea to begin by assessing where your clients spend their time. There are many social media platforms, and each has its own audience. 
In other words, never rely on the stats alone to decide where you should invest your time. For example, while Facebook seems like a sure bet (69% of Americans use Facebook), you may find that your social media strategy has more teeth on sites like LinkedIn, where B2B companies connect. If you're a business like a bakery or art studio, you may find sites like Pinterest or Instagram more useful.
Here are some additional food for thought courtesy of Hubspot:
98.3% of Facebook users access the app on mobile devices.
LinkedIn is the largest B2B display advertiser in the United States at 32.3%.
Instagram is the second best performing social media platform for marketers.
Twitter's audience skews heavily male.
Women make up more than 60% of Pinterest's global audience.
In 2019, Snapchat was the most important social network for 44% of U.S. teens.
So how do you determine where your customers go? Reach out to them. Consider sending questionnaires to your clients about their social media habits and which platforms they use. You can also try researching demographics like the statistics above that can provide insight. For example, 81% of 18- to 29-year-olds use Facebook.
Don't Have Time For Social Media? 
It's easy to get overwhelmed by the amount of time it may take to implement an effective social media marketing strategy that targets active users who may see value in your product or service. It can also be a complex process to understand the intricacies of social media … what works, what doesn't work and why both of these are unique to your business. 
However, there are companies like digital marketing agencies that specialize in inbound marketing that can accomplish this for you. Inbound marketing allows you to market to your ideal customer, and hiring an agency is a lot more affordable than you think. 
In fact, a marketing agency if often less expensive than hiring one employee. That single employee is also often tasked with one primary responsibility, such as writing content or managing your website. A marketing agency can take care of all of these components of a successful inbound strategy by creating targeted content that educates and solves your prospective customers' problems, and sharing it across the social media platforms that resonate with your ideal customers most.
Social Media Is Not Right For Every Business 
If are a B2B company and hope to use social media as your sole lead generation channel, you likely encounter poor results and wonder why. The only true way to see if scoial media marketing will work for your particular business, is to try it and analyze the results. 
We have seen several clients in specific B2B markets only see about a 1% visitor to lead rate over the course of a year. Whereas organic search has a 79% visitor to lead conversion rate. Your ROI from social media in these cases is not justified. 
Analyze, adjust, then analyze and adjust. Then make your decision on how best to spend your marketing dollars.