Have you heard about Wi-Fi calling, but not exactly sure how it works? Or, more importantly, how to turn it on? We'll break down everything you need to know about calling over Wi-Fi for you.
Apple and Android devices support Wi-Fi calling. Without using your phone service provider as the middleman. It's is a great solution to achieve high-quality calls indoors.
As companies shift their staff to work remotely, you'll likely get acquainted with Wi-Fi calling and its limitations. The best part is that if you have strong Wi-Fi network coverage, you can communicate with your team using HD Voice over a cloud phone system. Unlike cellular service, HD Voice has much higher quality sound and clarity—a must for any team.
In this guide, we'll answer common questions you might have about your calling options:
What is Wi-Fi Calling?
Wi-Fi itself operates on a series of standards established by the IEEE and the Wi-Fi Alliance. If you have a high-speed broadband connection, odds are that you also have a router capable of providing this wireless coverage.
Typically, a wireless router offers approximately 150 feet of range from its location, depending on building materials and other factors.
Wi-Fi calling gives you the chance to make phone calls using a wireless internet connection. It doesn't go through a traditional telecommunications provider like AT&T or Verizon. Additionally, Android and iOS devices now have accepted, universal standards (APIs) for VoIP calls in a way that is optimized for battery life and the user experience.
Thinking through business continuity, it's important to have a backup connection. If your company's network connection fails, you need to be able to conduct business over an LTE-based cellular connection. Wi-Fi calling takes place over both when configured correctly.
One of the trends we discovered in the 2020 Business Communication Report is the positive attitudes around remote work. Current events have also accelerated this shift to empowering employees to work away from the office. Nearly four out of ten companies now have their teams working remotely.
Want to learn about VoIP? Upgrading your phone system?
Get your free copy of Cloud Phone Systems for Dummies.
How Does Wi-Fi Calling Work?
The simplest way to make a Wi-Fi call is through a VoIP (Voice over Internet Protocol) system. It works by reaching a carrier over the internet connection to establish a phone line. There's a lot of happening under the hood to make this possible, but to you, it's practically effortless.
Apps like WhatsApp, Skype, and Facebook Messenger use VoIP technology to make calls. With today's capable devices, you don't have to do much to achieve a strong network connection. Apps like Nextiva let businesses make Wi-Fi calls from any device—even if it doesn't have a cellular connection (or SIM Card).
Fundamentally, Wi-Fi calling uses VoIP to provide callers a better calling experience. You can select the right rate plan and phone number that works for your business. It's also a great way to skip paying your cellular company high international rates. With modern advances in wireless routers, you leverage them for reliable network connections without any dropped calls.
Does WiFi calling cost money?
Traditionally, phone calls made using a cellular connection come from your monthly allowance. The Wi-Fi calling feature is similar. Wi-Fi calls have no additional cost; it's taken from your monthly voice plan.
It's a fantastic option for employees that telecommute. You won't pay sky-high international calling rates for making cross-border calls. You're simply using data from your allowance to make international long-distance calls.
The best part? Cisco predicts that by 2021, there will be 542 million wireless network hotspots all over the world that support Wi-Fi calls.
With cloud phone services like Nextiva people can call as much as they want across the United States, Canada, and Puerto Rico. And when it's time to call abroad, they can call around the world for as low as a penny per minute.
How to Turn On Wi-Fi Calling on an iPhone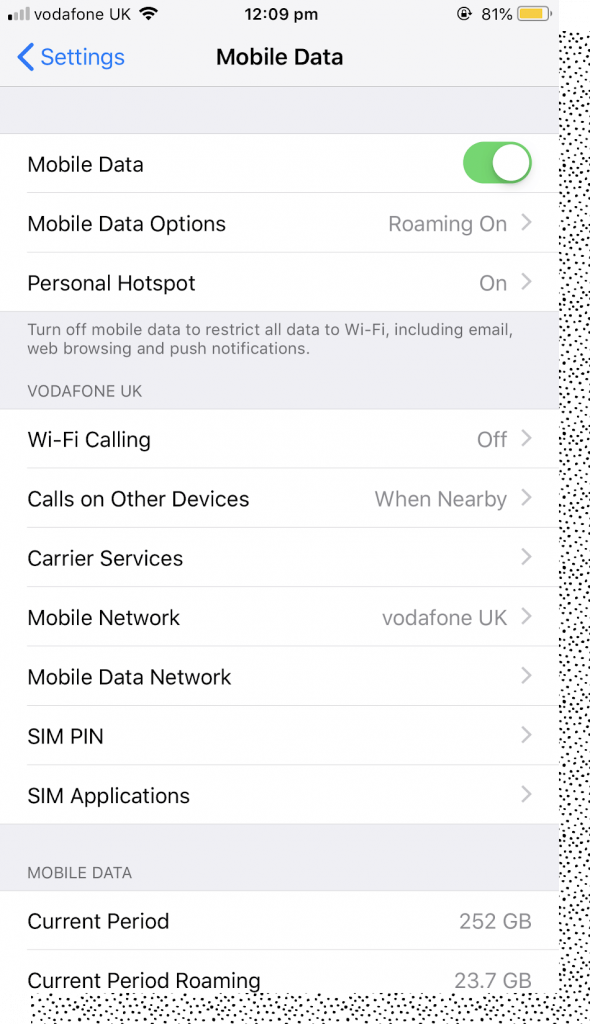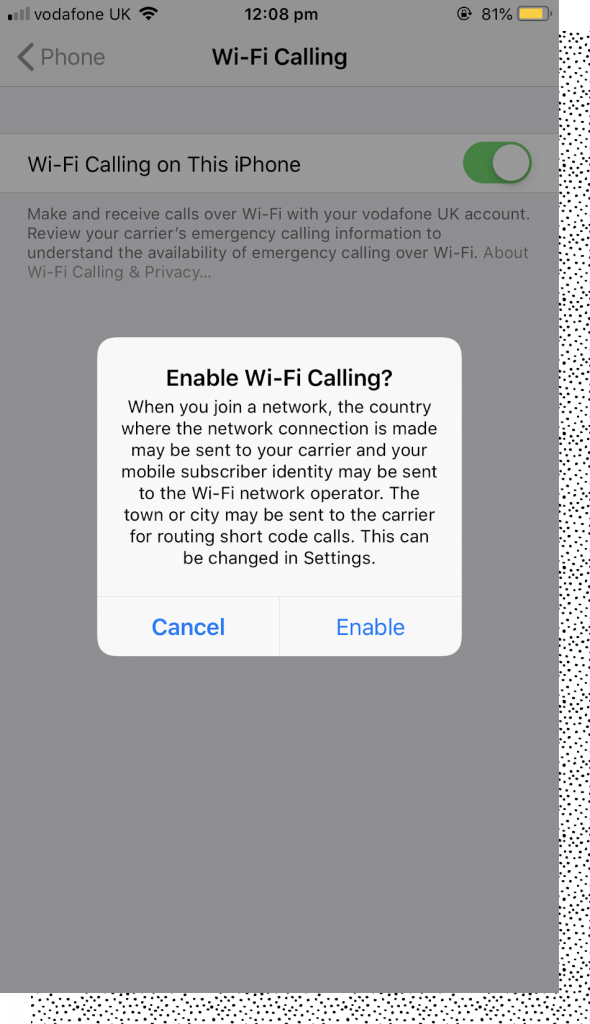 Ready to make your first Wi-Fi call? You no longer need old-fashioned apps like Skype. This process works the same on iPhone 6, iPhone 6S, iPhone 7, iPhone X, iPhone XS.
To make a Wi-Fi call on your iPhone, first you need to turn on Wi-Fi calling. Go to your iPhone Settings and hit the Mobile Data option. Here, you'll see a section for Wi-Fi calling:
Click the button, and slide the toggle button to turn on Wi-Fi calling.
Your iPhone is now ready for you to make a call via Wi-Fi connection.
But to exclusively use Wi-Fi for calling on your iPhone (rather than your cellular network), you'll need to turn off your mobile data.
Do this by heading to your smartphone's Settings > Cellular Data, and switching the toggle to Off: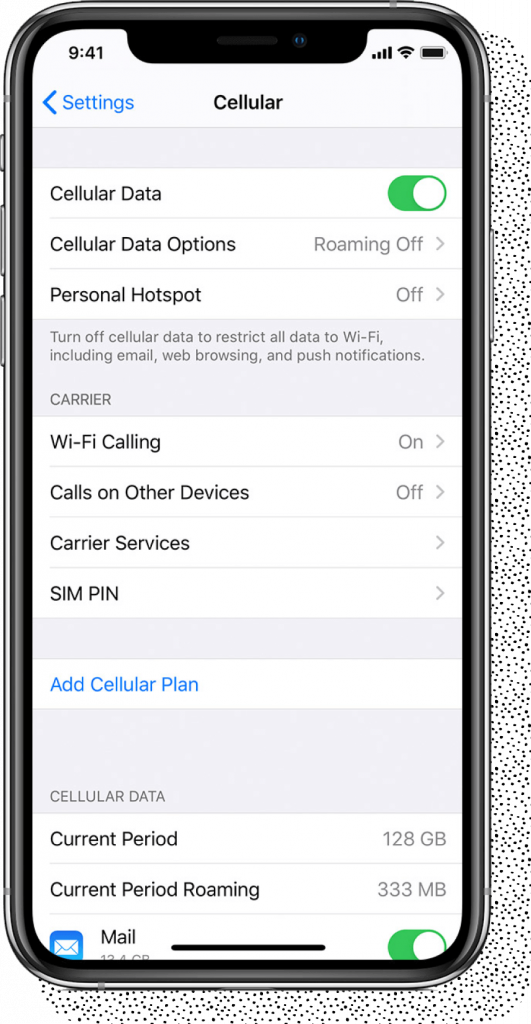 iPhones, iPads, and iPods all have the same settings since they run on iOS.
However, some Apple devices automatically use Wi-Fi connections. iMessage is a popular messaging service that uses this. Users connect to the internet to send and receive text messages rather than cellular data. These messages still come from your U.S. number, so your recipients won't know the difference.
The only difference? This only happens when texting an Apple device from another Apple device. If an iPhone texts a Google or Samsung phone, iMessage won't be supported. The message will be sent as a normal text through a cellular connection.
Read more: 11 Best Wireless VoIP Phone Options for 2020 (Wi-Fi & DECT)
How to Turn on Wi-Fi Calling on Android Phones
Can you still make Wi-Fi calls if your device uses the Android operating system? Yes!
To turn on Wi-Fi calling on your Android device, head over to your Settings. Hit the Network & Internet button. Then, click Wi-Fi Preferences and tap Advanced: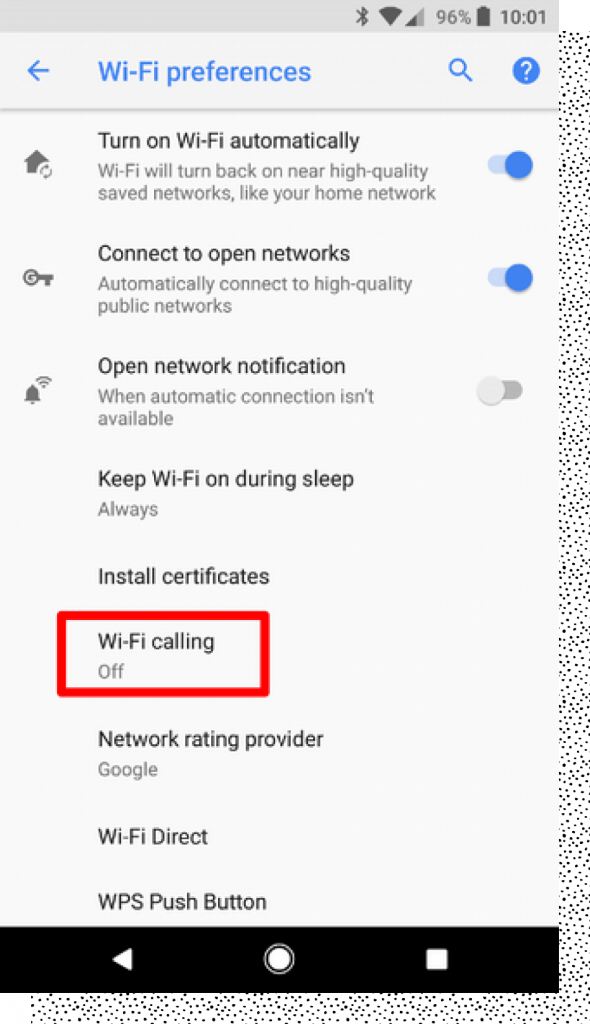 Here, you'll see a toggle for Wi-Fi calling. Switch the button to On: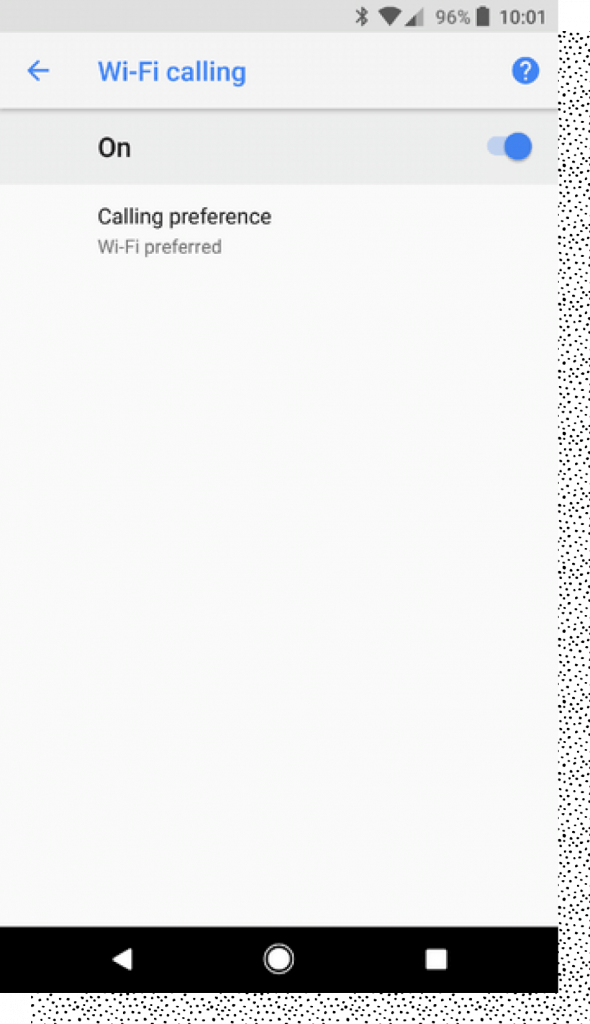 You'll then need to turn off your standard mobile phone data. You can do this by turning your Android phone to Airplane Mode.
Airplane Mode will stop your device from relying on cellular data usage. Once you turn on Wi-Fi calling, your incoming and outgoing calls will be done automatically via Wi-Fi.
What's the Difference Between Cellular Data and Wi-Fi Calling?
Wi-Fi calling allows you to speak to people in remote locations. You don't need to be near a cellphone tower. You simply need an internet connection. However, providers like AT&T, T-Mobile, and Verizon supply mobile data—so long as you're near one of their towers.
However, Wi-Fi can have a weaker connection than cellular data. Voice quality can be sacrificed if lots of people are using the Wi-Fi hotspot at the same time. This usually happens in crowded places like shopping centers or stadiums.
One drawback of Wi-Fi calling is that it can be subjected to disruptions from your network among other VoIP problems. These issues are preventable, but you might have echoes or delays if you have a faulty network connection.
Video calls made using Wi-Fi can suffer as a result. For this reason, it might not be the best option for remote employees stuck in airports with an overcrowded Wi-Fi connection. They'd probably have a stronger cellular connection. That's because cellular coverage areas are reliable in urban areas.
And if that wasn't enough, Wi-Fi calls could extend your battery life. A device that continuously searches for a cellular network to connect to can drain your battery. A device using Wi-Fi calls doesn't. It simply connects to one network—and stays there until you disconnect.
FAQs
1) How do I make Wi-Fi calls with Nextiva?
You can make Wi-Fi calls using Nextiva's VoIP app. Head over to your App Store and search "Nextiva" to download the app to your device. (Note that you might need an Enterprise account to use the app.)
Start by uploading your contacts to the database. You can do this by importing contacts from your device or adding them manually.
Your VoIP phone number will be the same one created when you got your Nextiva subscription. The same applies if you're using an international number.
Then, when you're done, hit the Call tab towards the bottom of your screen. Click the person you want to call.
If you've already enabled Wi-Fi calling on your device, the Nextiva call won't use your cellular data. It will jump on the wireless internet connection you're already using.
2) Can I still make emergency calls?
Calls using cellular data are preferred for emergency calls. Why? Because when a cellular call is made, it pings nearby cell towers. The emergency services use this data to track your location and route your call to the nearest public safety answering point, or PSAP.
That being said, you can still make Wi-Fi calls in an emergency situation, but make sure to provide the operator your specific location verbally.
3) Can I register an address to my phone making Wi-Fi calls?
Emergency services can't easily track a caller's location from Wi-Fi calls. For this reason, you'll need to add an address to your device. This is used if you make an emergency call. The police (or otherwise) will be sent to this location if you call them via a Wi-Fi network.
The device you're using will ask for an emergency address when you enable calls over Wi-Fi. For cell phone carriers, it's typically your billing address. The Nextiva App will automatically draw your emergency address from your User Profile. You can't use this feature without adding this information to your Apple or Android device.
4) What types of devices can make Wi-Fi calls?
An increasing number of phone service providers support Wi-Fi calls, including:
Almost all Android and Apple phones now support Wi-Fi calls.
Alternatively, you can use the Nextiva business app to make work-related Wi-Fi calls. You can sync your work phone's contact list to the app. Then, you can use the app to make high-quality phone calls over your Wi-Fi.
But what if you're using a device that doesn't have a cellular connection, anyway? The Nextiva App is also compatible with Windows and Mac operating systems. This means you can make Wi-Fi calls through your PC. You don't need your mobile device.
Regardless of which device you're using, you can still make a call using a Wi-Fi connection.
5) How do I turn it off?
Not ready to start using Wi-Fi for your calls? Don't worry. You can still switch back to using your cellular network at any time.
To do this, head back to the Wi-Fi settings for your device. Simply switch the toggle back to Off. For Android devices, you'll also need to switch off airplane mode in your status bar. Apple users will need to turn their cellular data back on through their settings menu.
You can switch between Wi-Fi and cellular calls at any time. For example, if you're working remotely and don't have good signal strength, use Wi-Fi calls. But if you're in the office with a strong cellular connection, stick to that.
Related: Ready for VoIP? Advantages and Disadvantages to Make the Right Choice
6) Is it safe?
When making a call, your mobile carrier encrypts your voice. This happens when you're using a Wi-Fi connection, making such calls perfectly safe — even if the Wi-Fi network isn't secure or password-protected.
7) Pros and cons
Pros: Data is taken from your existing mobile plan, without any extra charges. Plus, you don't need any extra hardware—just an internet-connected device. And, since calls are encrypted, they're perfectly safe for business use. Wi-Fi calls can also save your device's battery.
Cons: It's a relatively new technology. Therefore, some mobile carriers and handsets don't support Wi-Fi calls.
It's the way forward for remote and mobile staff
Wi-Fi calls are a great alternative to cellular calls. You don't need a device containing a SIM card, nor be close to a cellular mobile network tower, to make a phone call.
This makes Wi-Fi calling a perfect option for mobile or remote staff. Regardless of where they are in the world, they can make calls back to your U.S.-based office at no additional charge. Plus, they can hop on the cloud phone even if they're in the middle of nowhere.
Once you set your preferred calling connection to Wi-Fi, there's no looking back.
Move your phone system to the cloud and save.
Save up to 60% off your phone bill!