Originally posted on October 10, 2021 @ 7:54 pm
Search engine visibility also known as search visibility has always been the goal of every online business owner. In this post, I will guide you through the effective tactics to increase your search engine visibility.
As every website or online marketers are always surfing the internet, seeking ways to rank top in the search engine result pages. This is because your website is your online business office where people can meet and interact with them.
You will find in this post, 10 proven tactics about how to boost your website search engine visibility. After reading this complete post, you will be able to increase your website search visibility,
In addition, you will get the most excellent effect from your digital marketing efforts.
Let us start.
Disclaimer: The content is a free content and as such it contains some affiliate links. No worries, I only earn commissions whenever you buy through those links. Thank you.
Let quickly have an over sight on what to expect in this search visibility guide.
How Do You Increase Website Search Visibility?
Are you an online business owner and want to increase your business's search visibility? These are the proven tips to increase your visibility on search engine:
Understand What a Blog Is.
Having a Full Knowledge of Your Niche and Competitors.
Improve your Research to Find a Tactics That Works.
Find targeted Keywords by Doing Keyword Research.
All Buyers' Stages should be address in your Contents
Improve Page Speed for Better Search Visibility
Increase Your Website Visibility By Getting more Backlinks
Make Your Site Mobile Friendly.
Create Astonishing and Compelling Content
What is search engine visibility?
Search engine visibility is an online kind of search engine optimization and submission tool that helps online users to increase or optimize their website for search engines and increase their search visibility.
Search visibility is also the amount and portion of traffic a website receives from its ranking on the SERPs or in the organic search results.
Increasing your website search engine visibility can significantly heighten your digital marketing efforts.
Not implementing what is SEO into your digital marketing strategy can result to reducing your chance of topping or ranking well, and you will definitely lose customers.
Your rivalries might sure outrank you, as your competitors are not slacking regarding their SEO tactic.
Google is changing its algorithm often, and has several factors to resolve a website's ranking. Therefore, there is no one particular technique to increase your search visibility in search engines.
So to give your content a superior possibility of ranking top in search engines, you can start by implementing these ten golden tips:
9 Proven tactics to Increase Your Website Search Engine Visibility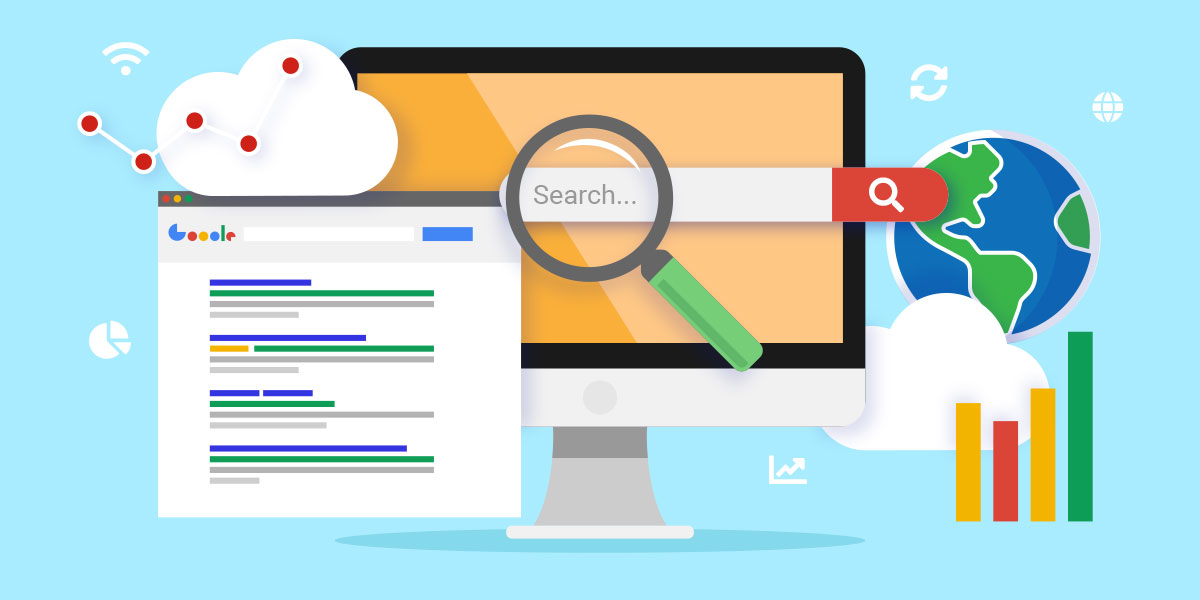 1.      Understand What a Blog Is.
The intention of any business having to start a blog is to attract people to its website. This is the first place to search engine visibility.
As it will help you understand your needs before starting out.
Let us continue.
Your business blog, help drive in users to your business website. So, the more users you have reading your website content, the more of these readers are expected to convert into leads and buying customers.
This will only happen, if you are publishing quality and valuable content. As an alternative to publishing company updates, and content that encourages your business offers every time.
Publish content that brings value to your audience and answers their questions. Check out Questions and Answer platforms like Quora and Reddit, if you are looking for questions people are asking and seeking answers for.
In addition, visit related Facebook groups and answer public questions that are relevant to you.
Also, look out for keyword research tools like SEMrush, Ahrefs and Twinword Ideas, for keyword ideas. If you write helpful content, people are going to build confidence around you,
This will in turn increases your website search visibility, and over time, they will buy from you.
2.      Having a Full Knowledge of Your Niche and Competitors.
The second aspect to increasing your search engine visibility is having a full knowledge of your niche and that of your competitors. Though there are various niches in the world of blogging,
Check out 10 best blog niches that that makes money online.
While some are highly competitive, others are less competitive. So, for you to increase your website search engine visibility.
You must understand your niche, and in knowing this will assist you know where you stand, and in addition, help to strategize how to outsmart and rank higher in SERPs than other websites.
To have a full knowledge of your niche is to know your top competitors and the tactics they use.
A quick note: The quality of your Content is a significant part to your website search visibility,
Therefore, it is the reason you must start by evaluating your competitors' content tactics.
You can run a check on their top ranking pages, and for the most part, check:
Their content length
Their kind of posts
The type of Keywords used
The amount of backlinks pointing to those pages
The image and video elements used.
Well, the best approach to get this is to utilize a tool like Ubersuggest, Twinword Ideas or Ahrefs.
Type in the web address of your competitors, and see their top pages along with the keywords used on those pages and positions in search results.
With the results obtained from this search, it will help you understand and strategize properly. So, with this approach you will be able to understand your niche and competitors.
Helping you know your competitors and increasing your website search engine visibility or search visibility.
3.      Improve your Research to Find a Tactics That Works.
Improving your research and studies to find a tactics that works, is one vital approach to increase website search engine visibility.
 It is all right to study your competitors and learn the blogging SEO strategies they are implementing. However, copying their strategies blindly will negatively affect your website search visibility.
You must assess your budget, business objectives, expertise, and time, before copying.
Also check out my post on 15 Tips and Guides for your Online Success. It is most likely that, there could be other best alternatives that go well with your budget and business objectives.
More to the point is, SEO practices recently keeps changing and with the changing SEO trend.
You must spare enough time to make research and educate yourself about the latest SEO trends before concluding and running an appropriate tactic for your business.
This way, you will save more money and time, and accomplish the best results in search engine visibility and give your website its search visibility.
4.      Evaluate Your Website.
It is a well-known truth, that website's content is an indispensable factor when it comes to the ranking, moreover increasing search engine visibility of a website.
This is the reason while analyzing your website, your content on various pages and their keywords is the first in line.
It's important to have a good and well-structured website strategy and business goal that meets the need of your audience.
Check out: 7 keys to writing great content for your website and How to use keyword in content writing for SEO
What to look at when analyzing website content?
Make sure your titles, headings are eye-catching and contain matching keywords. I recommend keeping your title characters below 60, so that Google can present them properly.
Check repeatedly your Meta descriptions, to ensure they are compelling and include the keyword.
Ensure your URLs are optimized – make sure to keep them four to five words.
Your images should be audited – Compress the photos, so they do not slow down the site's loading speed.
Keywords be included in the alt text and relevant title that describes what the image is about should also be added.
Use tools like copyscape to check for content originality and check for duplicate content on your site.
If you come across any copied text on any of your pages, ensure to remove it immediately.
To increase search engine visibility, all you have to do is to implement any of these tweaks to improve your website ranking.
5.      Find targeted Keywords by Doing Keyword Research.
Keywords are an important website search engine visibility factor. Keywords help you know what your audience is looking for.
Moreover, writing valued related content to meets their needs, will enable Google compensate you by ranking your content higher so that people can see it easily and help your search engine visibility.
As a result, you will receive targeted (organic) traffic.
How do you research keywords?
You can't gain search engine visibility or website search visibility without a well-researched keyword.
Using tools like Ubersuggest enter your competitor's URL; then click on organic keywords or keyword ideas to know which keywords they are ranking for.
Use keywords with a high search volume (at least 500) and low SEO difficulty (below 40).
Alternatively, using Ahrefs, pastes the competitor's URL in the site explorer tool, then click on organic keywords. After that, filter the results according to volume (minimum 500) and keyword difficulty.
You can also use the Content Gap section on Ahrefs to know the keywords your competitor is ranking for or against you.
Just navigate to Site Explorer and click on Content Gap. You can then paste the competitors' URLs and your own, to create a list.
All Buyers' Stages should be address in your Contents
There are at different stages of the buying process, these stages are Awareness, Consideration, and Decision stages.
Therefore, any person visiting your website would fall either of these stages. The authority of your brand will gain speed if these stages are dealt with in your content.
And as you gain trust for your problem-solving-content that's optimized for users, it increases your authority, social share and in turn gives search engines the knowledge of how quality and valuable your content is or are.
Search engines will have no options than to increase your ranking and search visibility.
How to write content to address people at each of the stages:
Awareness stage – At this stage, prospective buyers are facing an issue and trying to find out what it is. In response to this need, create instructive article that tackles their main points, thereby building brand awareness.
Consideration stage – Here, potential customers have acknowledged their problem and are seeking achievable approach to solve the problem. At this point, create and publish content that centers on solutions or how-to articles.
Position yourself as an expert at this point.
Decision stage – At this stage, prospects are testing a variety of solutions to their problems and are in all probability putting side-by-side products of different companies.
Therefore, this is the exact time to discuss your products. Make available a live demo, product evaluation charts, case studies, or a tryout download.
For example, a business that sells online business security software, would benefit from covering topics like, security safety gadgets, Anti-phishing, anti-malware software and so on.
These are most likely problems that their target audience is facing. So, writing helpful and instructive content around those topics will help increase website search engine visibility
In addition, create awareness toward the software solution they are offering.
6.      Improve Page Speed for Better Search Visibility
Page speed has been one of Google's ranking factors for a long time. You will have an increase in search engine visibility if the web pages of your website load faster,
Customers' user experience is greatly enhanced by high page speed and high page speed reduces your site's bounce rate, and raises the typical time visitors spend on your website.
Google's PageSpeed is a great tool to check your web pages' insights stats, and to know your website's page speed and get recommendation to improve it and as such increase your search engine visibility.
7.      Increase Your Website Visibility by Getting more Backlinks
Backlinks increases search engine visibility and gives your website its search visibility.
Quality backlinks help increase your domain authority. This is why backlinks are important in SEO and can increase your website credibility. It's important to look at what is SEO and how it works for business.
It helps search engines to identify that someone, somewhere found your content valuable enough to link to it. Although, not all backlinks are the same.
Google values any backlinks that is coming from more an authority and trustworthy website. You can paste your URL (or your competitor's) in Ubersuggest,
 To find out the sites that link to it. Explorer by Moz is another awesome tool, for this gesture.
Ways to build backlinks.
The ways to build backlinks include;
Creating infographics
Writing testimonials
Guest posting
Broken link building
Content promotion.
8.      Make Your Site Mobile Friendly.
In accordance with Google's mobile device guidelines, your web pages should be mobile-friendly, and should have mobile device navigation for easy access.
Google's Mobile-Friendly test tool is a testing tool to help website owners check whether their site is mobile friendly or not.
If your site is not mobile-friendly, the tool will advise what modification to implement to make your web pages mobile-friendly.
How to make your website mobile-friendly?
Ensure to install a responsive theme
Do away or minimize pop-ups
Keep the forms short
Use the accurate, standard Google font
Include a search function in your homepage
9.      Create Astonishing and Compelling Content.
Search engine visibility starts with quality and relevant content. In your quest to outrank your competitor, start by searching what kind of content is driving both traffic and shares.
BuzzSumo is a great tool to discover content with the highest traffic.
Create and center your post on related keywords you would like to rank for.
Alternative to BuzzSumo, input the keyword in Google search, and let Google display sites that are ranking top with such keywords and that have gained website search engine visibility.
Evaluate the content published by the top five search results, then find ways to develop a better content on what is already out there.
You may perhaps boost existing content by:
Writing more quality content than what they have
Adding an infographic
Including a video
Adding a downloadable checklist
Embedding an audio
Adding FAQs
This idea is to get a better website search engine visibility on the competition by making your content more relevant, valuable, and engaging.
With this you can increase your ranking and website search visibility.
Final Take On Search Engine Visibility
There is no single supernatural tactics to provide a very big SEO result on search engines. Combining these strategies to will help increase your site's search engine visibility, for resulting pages and achieve top-quality rankings.
In this guide we have gone through the 10 effective tips to increase your search visibility which when followed and implemented will give you an outstanding result in search engine result pages.
Following the above proven tips, you will increase the probability or likelihood of reaching higher rankings in search results for a long time.
If you like what you have read, share and subscribe to my blog post.
He is Digital Marketer who is passionate about blogging. MarketingBlogo was birth has a result of misconceptions about the reality of online marketing for business growth.