We're back—this time with our three-month update on email client popularity! We analyzed nearly five billion email opens around the world with Litmus Email Analytics from August to October 2022.
Let's take a look at the shifts that took place since our last update.
Before diving in, there are two things we always like to note:
As of fall 2021, the category "Apple" includes Apple iPhone (iOS Mail), Apple Mail (macOS Mail), Apple iPad (iPadOS Mail), and Apple Mail Privacy Protection (Apple privacy-impacted opens). Learn why

in this blog post

.

Apple's Mail Privacy Protection

(MPP) hides device data so we aren't able to differentiate between iOS, iPadOS, or macOS. Additionally, the new OSes don't differentiate between MPP and non-MPP in the user agent data it passes.
Top 10 most popular email clients
Over the three month period, the most popular email clients were Apple, Gmail, and Outlook—no surprise here. As for the top 10: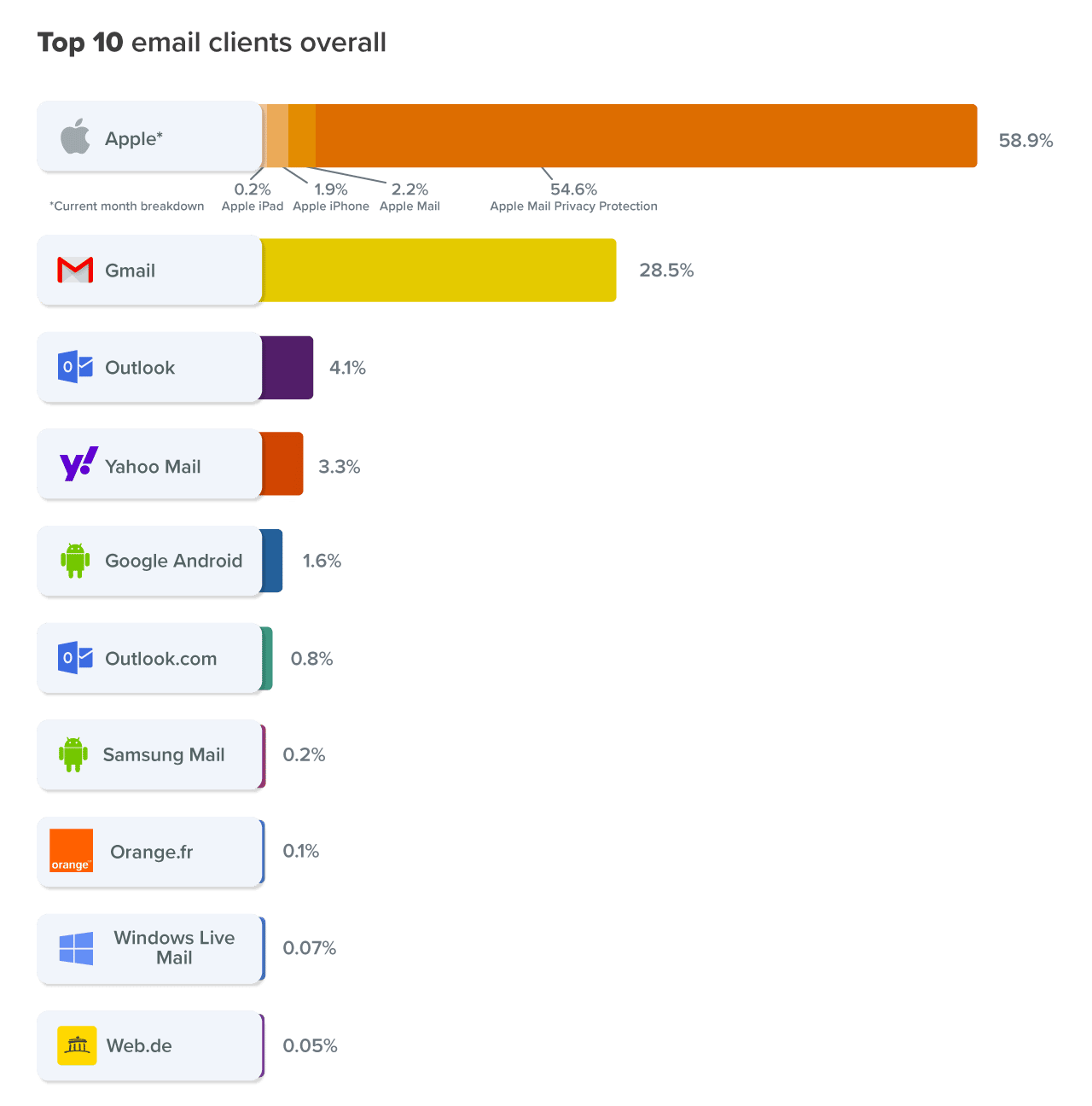 Apple: 58.9%

Gmail: 28.5%

Outlook: 4.1%

Yahoo Mail: 3.3%

Google Android: 1.6%

Outlook.com: 0.8%

Samsung Mail: 0.2%

Orange.fr: 0.1%

Windows Live Mail: 0.07%

Web.de: 0.05%
How did this play out over the past few months? Apple gained market share, from 57.7% to 59.5%, while Gmail and Outlook saw a slight decline. All other email clients stayed relatively the same, with no major shifts or changes in rankings from August to October 2022.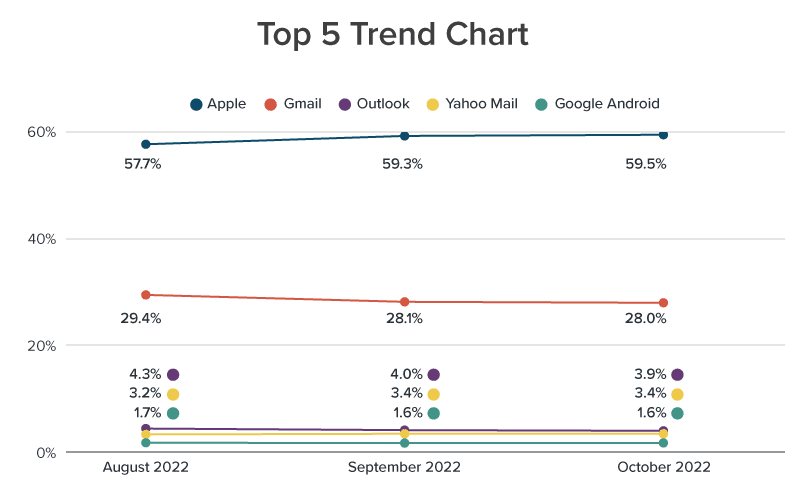 Analysis of Apple clients
Let's take a closer look at each Apple subcategory over this three-month period.
Apple Mail Privacy: 54.6%

Apple Mail: 2.2%

Apple iPhone: 1.9%

Apple iPad: 0.2%
Apple Mail Privacy Protection (MPP) is still the most popular category within the Apple umbrella. It even saw an increase over the span of three months, from 53.5% to 55.1%. Apple Mail saw a decline from 2.2% to 1.9%, which could be attributed to MPP.
Here's a month-by-month view: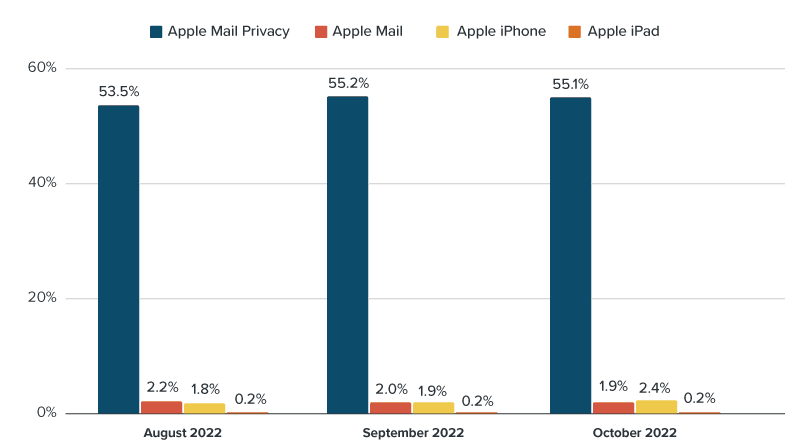 Speaking of Apple: We added support for four new Apple email clients and devices, including iPhone 14 (iOS16), iPhone 14 Dark (iOS16), iPhone 14 Pro Max (iOS16), and iPhone 14 Pro Max Dark (iOS16). Learn more →
Light Mode vs. Dark Mode opens
Light Mode continues to be the preferred setting. We saw less than a 1% change in either mode over the last few months.
Our Dark Mode data is based only on the Apple Mail app for iOS 13, macOS 13, iOS 14, macOS 14, iPadOS 14, iOS 15, iPadOS 15, and Apple Mail privacy-impacted devices.
What's trending with
your
subscribers?
As we've mentioned before, it's crucial to understand which email clients are most popular with your subscriber audience. The trends discussed in this blog post provide an at-a-glance look at the most popular email clients. See what's trending with your subscribers so you can better strategize, maximize your email testing efforts, and deliver a memorable subscriber experience. 
We'll be back in February 2023 with a look at email client market share from November through January 2022. For monthly updates, head to our email client market share site.
Where did we get all this data? Our email client market share stats are pulled from over a billion email opens, anonymously collected, and aggregated with Litmus Email Analytics from August 1-October 31, 2022. It highlights global trends across all industries and verticals. Some email clients may be over- or under-represented, particularly with mobile and webmail. This is due to image blocking or image caching, most notably with Gmail. Still curious? Learn how we get this data.